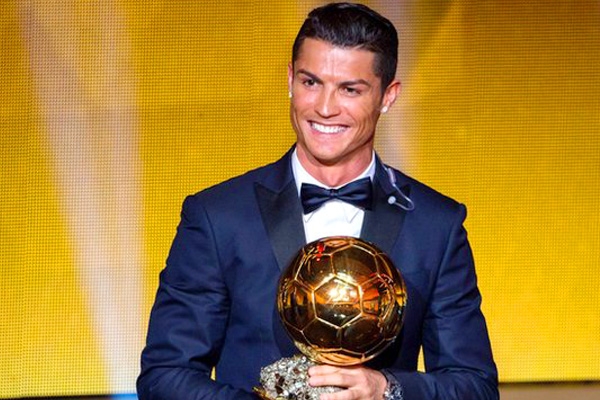 (Image source from: Cristiano Ronaldo retains his Fifa Ballon d'Or})
Portuguese player Cristiano Ronaldo won his third Ballon d'Or award as FIFA world footballer of the year 2014 on Monday at the high-profile Fifa Gala in Zurich. Ronaldo topped in the race over Argentina's Lionel Messi and Germany's World Cup-winning goalkeeper, Manuel Neuer with higher percentage of votes. The Real Madrid player got 37.66 per cent of the votes while Messi got 15.76 per cent and Neuer stood third with 15.72 per cent of votes.
The 29 year old had a dream run in 2014, in which he scored an astonishing total of 63 goals for Real Madrid and Portugal in all competitions. However, he could not take his Portuguese team to the semi-finals of the FIFA World Cup 2014. Ronaldo first won the Fifa Ballon d'Or award in 2008 and again in 2014 won it. On this note, "I would like to thank all of those who voted for me, and also my president and my coach at Real Madrid," Ronaldo said. Ronaldo is now only one Ballon d'Or title behind Messi, who leads 4-3.
Germany's midfielder Nadine Kessler won the Women's player of the year. Joachim Low won men's coach of the year who guided Germany to win World Cup. Ralf Kellermann was named women's football coach of the year after a successful defence of the Champions League.
AW: Kannamsai