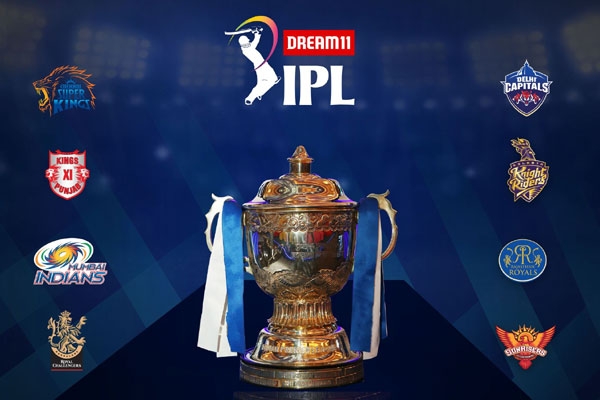 (Image source from: iplt20.com)
With Dream11 being termed as the official sponsor for IPL 2020, the Indian Premier League (IPL) revealed its new logo for the upcoming tournament in UAE commencing in September.
Fantasy sports platform Dream11 owned Sporta Technologies Pvt Ltd has been named as the official sponsor for the upcoming edition of the IPL tournament. Dream11 won the rights of becoming the official partner with a bid of Rs. 222 crore in Tuesday's bidding process.
Notably, BCCI and the Chinese mobile manufacturer VIVO decided to suspend the IPL title sponsorship rights for 2020 over the soaring border tensions between India and China.
IPL took to twitter to share the new logo depicting its association with Dream11 for this year's IPL and asked fans how did they like the new avatar.
Dream11 on Tuesday emerged as the highest bidder for the title sponsorship. The company has been started in 2008 after the first IPL tournament. The company's aim is to bring the cricket fans together and engage them while online while the match is going on at the stadium.
The sports fantasy platform Dream11 outbid online education platforms BYJU's and Unacademy. It has also outbid the coveted Tata Sons which came so close to victory in the race of bidding.
Notably, BYJU's has submitted its bid for Rs. 201 crores and Unacademy submitted the bid for Rs. 170 crores.
However, BCCI is not willing to agree for a 3-year bid with dream11 as it feels it could get more money for sponsorship in the years 2021 and 2022.
While the market analysts had already predicted a dip in the sponsorship money for IPL 2020, BCCI seems hopeful for a higher bid amount in 2021 and 2022.
Rajasthan Royals, Kings XI Punjab, and Kolkata Knight Riders have already arrived in the UAE for the tournament. However, Chennai Super Kings is expected to leave for UAE today.
IPL 2020 is all set to begin from September 19 and the final match is scheduled to be held on November 10. After much anticipation of this year's tournament being conducted or not, BCCI has finally decided to conduct the tournament erasing all the speculations.
Rajasthan Royals and Kings XI Punjab landed in Dubai through a charter flight which will be the norm of this year's IPL due to the coronavirus pandemic. A little later in the evening, Kolkata Knight riders arrived in Abu Dhabi, the base of the tournament.
Sixt IPL games will be played in a duration of 53 days across three revenues, Dubai, Abu Dhabi and Sharjah. In 2014 too, the United Arab Emirates hosted the IPL partially due to general elections in India.
By Gayatri Yellayi