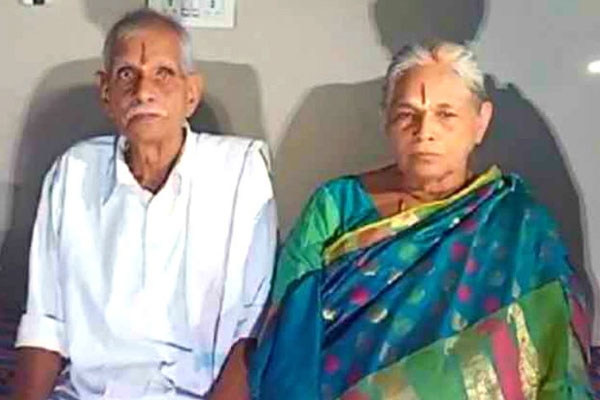 (Image source from: Dainik Bhaskar)
A 74-year-old woman from Andhra Pradesh's Guntur has set a world record by giving birth to twin baby girls on Thursday through In Vitro Fertilisation (IVR).

The doctors at a private hospital performed caesarian on the elderly woman, who has been trying for a child of their own for a long time but their attempts always been unsuccessful.

Mangayamma was married to Yarramsetti Rajarao, a farmer, about 57 years ago. Since Mangayamma failed to conceive even after a decade of marriage, the couple visited every available doctor in their district.

However, the couple was not blessed with children and even their experiments through IVF in Chennai could not yield any results.

A year ago, the couple reached out to IVF expert Dr. Sanakkayala Umasankar in Guntur and decided to undergo treatment through IVF. The doctors carried out minor surgery and arranged a uterus from another woman since she also crossed the menopausal stage.
                        (Image source from: News18 Telugu)

In January, the woman was admitted in hospital with a team of medical experts closely monitored the IVF procedure. Mangayamma was neither diabetic nor had hypertension, due to which the job of doctors was made a bit easier.

The woman went through several rounds of psychological counseling to stay fit mentally and physically because conceiving at that age comes with overcoming a lot of emotions that society or vicinity throws on her.
                        (Image source from: The Hindu)

However, the couple was strong enough to face societal trauma to become parents and was firm to go ahead with the procedure.

Keeping into consideration the age of woman, the doctors decided to perform c-section. The entire family of the couple including Mangayamma's 95-year-old mother reached Guntur to take part in her daughter's happiness.

By Sowmya Sangam