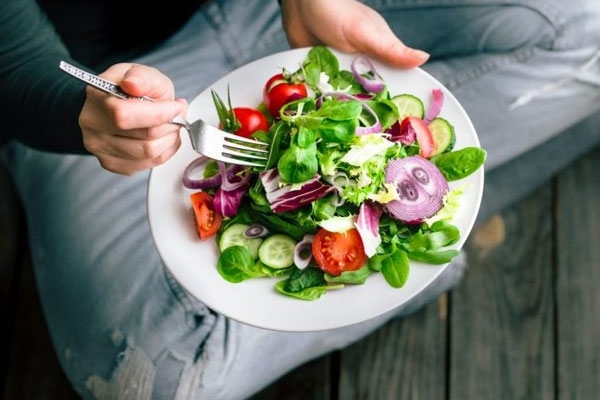 (Image source from: shethepeople.tv)
It is of utmost importance to follow healthy eating habits amid the coronavirus pandemic.
Staying indoors and working from has taken a toll not just on health but also the eating habits. As we are always staying at home, we end up overeating without even realizing it.
We have started taking more snack breaks than usual and stopped keeping track of the number of trips to the refrigerator. If you are also one of those who identify with this scenario, it is time to watch what you eat.
We are in the middle of the coronavirus pandemic and it is of utmost importance that we follow healthy eating habits to build immunity to protect yourself from coronavirus.
To stay fit and healthy during a pandemic, you have to eat healthily. Eating healthy will not only benefit you during any pandemic but also in the normal times.
Here are the healthy eating habits you need to follow during the coronavirus pandemic.
Keep a check on your cravings
With constant notifications from the food ordering apps like swiggy and zomato, it is so easy for you to give in to temptations whenever you bump into a colorful pizza or burger or even fries advertisements.
But here is where you need to put your brakes. An occasional indulgence into fast foods is fine but you need to keep a check on your cravings. This will keep you away from overeating and also from excessively consuming high calories.
In these challenging times where your physical activity is already reduced, unchecked consumption of junk food can lead to fatigue and lethargy.
Engage in healthy snack eating
It is understandable that the pandemic stress is triggering the urge to constantly eat junk food. One way of dealing with this is by eating healthy snacks.
One way of doing this is by ditching your chocolates, chips, and oily snacks. Instead switch to eating healthy biscuits, and foods that benefit your body like fruits.
Some healthy snacks that can go with your daily routine are roasted chickpeas, dry fruits, Khakra, makhana, and oats. Stock your kitchen with these food items and you are sorted.
Eat home-cooked food
In these uncertain where there is the fear of coronavirus everywhere, it is always preferable to home-cooked food and the benefits of doing so are plenty.
Home-made food will definitely be fresh and will be rich in quality and nutritional values.
It is any day safer to eat cooked food at home instead of ordering food from restaurants or eating processed foods.
In case of pandemics or even in the normal times, eating home cooked food keeps you healthy and boosts your immunity.
Home made food is cost effective and environment friendly too.
Stick to a schedule
When you are at home all day long, it is very easy to lose track of time and you end up eating whenever you are hungry.
Moreover, with the work from home burden on you, it is natural that your meal times go for a toss.
Don't let this happen. Make sure you have an eating schedule in place and stick to it. Have your meals on time and have each one of them mindfully.
By Gayatri Yellayi