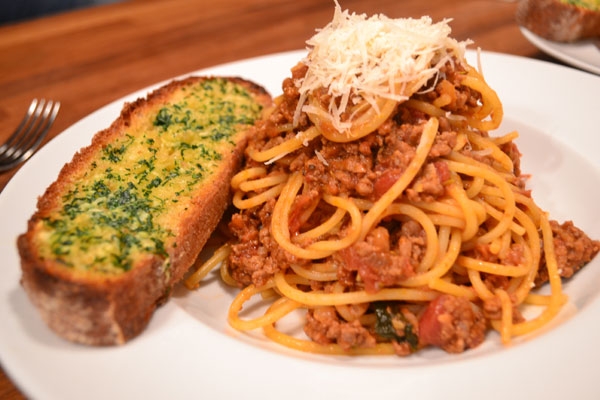 (Image source from: rorykellycooks.files.wordpress.com)
Plant-based foods including bread and pasta are linked to lower the risk of dying according to a recent study.
As per a study published in the journal JAMA Internal Medicine, food researchers have conducted a study on 104 men and women's diet and health from 1995 to 2011. They were asked questions on their lifestyle, diet, demographics during the start of the study and were followed up after 16 years by the researchers.
Going by the average of their diet, all these men and women got 15% of their daily energy from the intake of protein, 40% from plant-based foods and 60% from animal proteins including dairy products.
Consuming plant protein has been linked with lower risk of cardiovascular disease and death. The combination was particularly strong when plant based proteins from foods like bread; cereal and pasta were eaten in favor of that from meat and eggs.
Replacing eggs with plant protein has reduced 24% of the risk of death in men and 21% in women. In the case of red meat, the risk of death was dropped by 15% in men and 13% in women.
Replacing one's daily protein intake from animal to plant based foods has reduced the risk of dying through a cardiovascular disease by 10% in men and 12% in women.
The same statistics have been maintained irrespective of daily habits by men and women like smoking, drinking, fruit consumption, and vitamin supplements use or even having an underlying health condition like diabetes.
The researcher's team has asserted from their findings that changing one's diet plan and food consumption can enhance the life span and improve health of both men and women.
Substitution of some carbohydrates with proteins has also been linked with better cardiovascular muscles such as blood pressure as well as fat and sugar levels in blood.
Past studies have also shown that protein consumption is linked with weight loss as people feel fuller for long time. The researchers were confident of their latest studies because 15% calorie intake from protein seen in their respondents was similar to that of general US population which is 15 to 16%.
Researchers have also told Web MD that meat protein often has higher levels of cholesterol and saturated fats which are not good for health. An ounce of red meat mixed with pasta and veggies has less fat than a 9-ounce steak.
People who ate more plant based protein had a lower BMI, would eat more fibre, fruits and veggies, do more exercise and would mostly stay non-smokers.
Researchers have concluded that a well balanced vegan diet is a healthy choice for the heart and circulatory health. Also, if plant based proteins are included it would be an added advantage to heart.
By Gayatri Yellayi