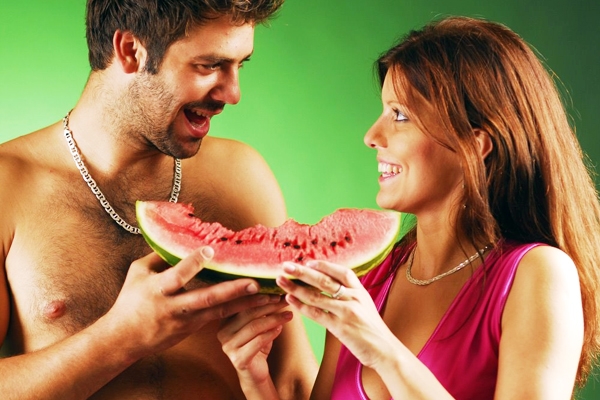 (Image source from: Watermelon is indeed your natural Viagra})
Wish to add some fireworks to your sex life? Forget burgers, beer and barbecue this summer and load up on watermelons instead. Yes, watermelon is nature's very own Viagra! And presumably more effective than the fabled aphrodisiac chocolate too. A cold slice of watermelon  everyday  is sure to keep your libido rocking all time of the day.
Watermelon contains phyto-nutrients like lycopene, beta carotene and citrulline that relaxes blood vessels, just like Viagra. Through watermelon, citrulline enters the blood stream and converts into arginine that works wonder on heart health, improves circulation as well as perks up immunity.
Not just that. For anyone having trouble in getting to keep their man stay up for long, watermelon is the remedy. It's the ultimate cure for erectile dysfunction. But the benefits don't just end there. It also helps the body orgasm better and drawn maximum pleasure out of a sexual act.
So if you thought that this juicy fruit was all water, sugar and calories, think again! Gorging on it everyday could rev up your intimacy quotient with your partner like nothing else.
Have a distaste for the melon? Never mind, you can make your pick from other natural libido boosters like black raspberries, broccoli, figs, clove and more.
AW: Suchorita Choudhury