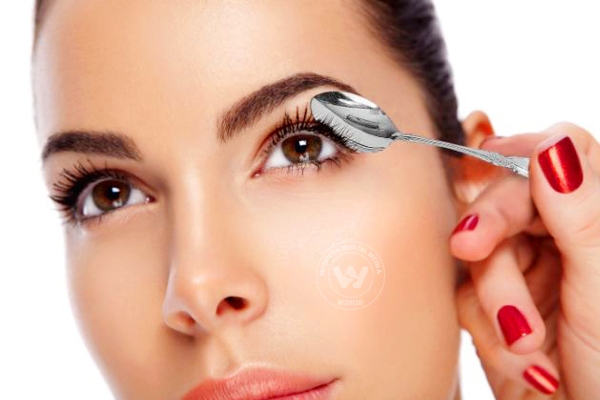 (Image source from: Makeup Multitaskers})
Spoons are useful (very useful) for consuming soups and ice cream, but they actually have a number of beauty uses, as well. Here's proof.
If your eyelash curler is nowhere in sight, a spoon will be the answer to your prayers. Hold a spoon against your eyelid and using your thumb, press your lashes against the rim of the spoon. This will create a bend in the lashes and leave you with curled, lust-worthy lashes.
For a quick fix to smooth foundation over fine lines, take a chilled spoon , and slowly run it along fine lines, following the direction of the line. Repeat a few times, then immediately apply your foundation. This helps to temporarily "flatten" and smooth your skin so foundation won't get caked up in those lines and creases.
When your favorite lipstick or blush takes a tumble the outcome can be disastrous. But with the help of a spoon and a little pressure, all will be right in the world of beauty! Follow my tips on how to fix broken makeup and make sure to have a spoon handy.
Instead of using your finger to remove excess lipstick from your pout, keep your hands clean with the help of a spoon. Flip a spoon upside down, place it in your mouth and then remove
Spoons have a perfect design that is strong enough to remove bacteria from the tongue without harming it.
Apply the hollow inside of your spoon against the apple of your cheek. Using the bottom edge of the spoon as your guide will take the guesswork out of contouring the hollow of your cheek.

AW: Arun Kumar