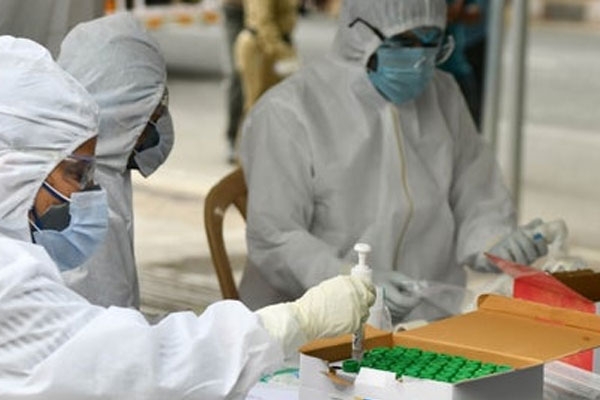 (Image source from: s.w-x.co)
The number of COVID-19 cases across the country fell by 3000 this Monday from Sunday's count which is according to the same pattern that is happening since two months.
Reaffirming a pattern that is being seen since the start of coronavirus testing in India, about 3000 cases fell this Monday too when compared to the previous day.
The pattern which the country is seeing goes like this:
The number of cases increases in the week days, reach the peak during weekends mostly on Sunday and then see a sudden dip on Monday.
The trend has held the country for 9 weeks in a row which is being called a statistical quirk. For example, the new cases recorded this Monday were 22,007 which is big drop from Sunday's count which is 24,976. In the earlier week too, the number of fresh cases reported on Monday across India was 18,870 whereas on Sunday the number was 19,741.
The same pattern is being witnessed for 10 weeks now except for the first week of testing.
The best explanation for this dip in fresh COVID-19 cases on Monday's can be given when a careful observation is made on the testing figures.
The numbers of tests conducted see a fall every Sunday which is reflected on the Monday's count and sometimes on Tuesday's count too. This is because the results of RT-PCR tests take 24 to 48 hours to arrive.
According to Covid19India.org website, on July 4, around 2.4 lakh tests were conducted. The number fell to 1.8 lakh on the next day which is Sunday and again rose to 2.41 lakh on Monday.
Surprisingly, the daily figures of COVID-19 deaths do not show the dip as seen in number of cases registered. The "Monday Dip" is also a parameter that determines the relationship between testing and detection of COVID-19 cases, which also indicates the need to ramp up the number of tests conducted across the country.
India has so far recorded 7,42,000 COVID-19 positive cases of which 2.8 lakh cases are active as on Wednesday. The death on the country has reached to 20,642. While some of the states have re-imposed lockdown to curb the infection spread many of the metro cities are implementing Unlock 2.0 though the COVID-19 cases are seeing a surge day by day.
By Gayatri Yellayi