Meet 99-Year-Old Kerala Man Who Has Trekked Himalayas 29 Times and Gearing up for His 30th Trek
March 19, 2019 15:50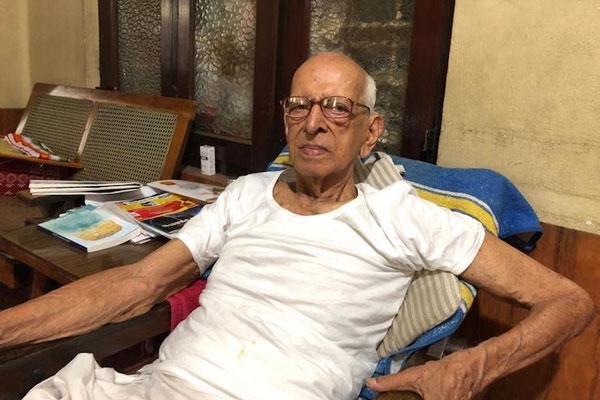 (Image source from: The News Minute)
Though many times the thought of making an adventure trip come through your mind, you could not carry through due to some restraints. But then, this 99-year-old P Chitran Namboodiripad from Kerala has trekked in the Himalayas recently for the 29th time and is already geared up to take the count to 30.

P Chitran Namboodiripad, a former Additional Director of the Kerala Education Department had a special relationship with the Himalayas from his childhood days.

His ambition is to trek the Himalayas next year on his 100th birthday for the 30th time, which falls in the month of October. The National Award-winning educationist covered Badrinath and Kedarnath in the first week of December this year. He had made the trip with a 118-member group from Thiruvananthapuram.

In an interview with The News Minute Chitran said: "I did my first trip in 1990 where I visited Badrinath, Kedarnath and other places in the Himalayas. Since then, I've been up there every year, without any breaks."

In October 2019, Chitran would turn a century old and take his 30th trip to the mountains. "This is a big year for me as I will visit the Himalayas for the 30th time. It is only in October though. Hopefully, I don't fall sick before then," Chithran was quoted as saying by The News Minute.

His secret to fitness and sharp memory is that he follows a proper vegetarian diet. He also goes for a walk and yoga.
                        (Image source from: The News Minute)

"It is fascinating that the mountain range is the origin of all big rivers in the country. I honestly don't mind traveling to any part of the Himalayas. But I love to visit the source of these rivers - the Gangotri - the origin of the Ganga and other places. Beyond Gangotri, it is difficult to trek. People don't go there often," said Chithran to TNM.

Besides, Chithran adds that the mountains stand as a barrier between India and other countries.

Chitran established a high school at Mookkuthala in 1947 after his post graduation from Pachaiyappa's College, Chennai. Later on, he handed over the school to the Kerala government at a token amount of Rs 1. This was his proudest moment in life, said Chitran.

By Sowmya Sangam