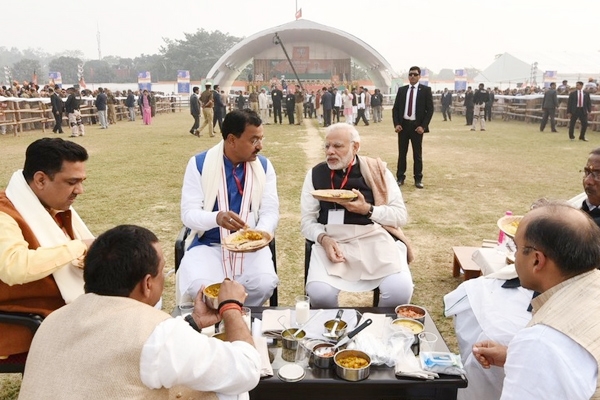 Yesterday in Varanasi, when twenty six thousand BJP workers took a lunch break, PM Narendra Modi brought his own tiffin for lunch and joined them.
The Prime Minister individually had a chit chat with many of the workers at DLW ground.
The BJP party tweeted yesterday saying, "Such equality is only possible in the BJP".
Piyush Vardhan Singh Rajkumar a co-convener of the BJP's IT cell for Kashi region said, Prime Minister Narendra Modi sought to inspire all the BJP workers by sharing his own experience. And to show that how in BJP workers have to rise through the ranks on merit.
It was Prime Minister's first trip to Varanasi since his announcement on demonetisation on 8th November.
Prime Minister Modi got elected to Lok Sabha from Varanasi in 2014 elections.
Raj Kumar said, Prime Minister Modi asked booth workers to explain. How the carelessness attitude of state government the central schemes were not able to reach to the common people.   
Earlier Prime Minister took a dig at Rahul Gandhi, Vice President of Congress, for leveling corruption charges against him and saying, that he was glad to hear how certain "young leader" had learned how to give speeches.
Rahul Gandhi has accused Prime Minister Modi for accepting kickbacks from a corporate house during his time as Chief Minister of Gujarat.