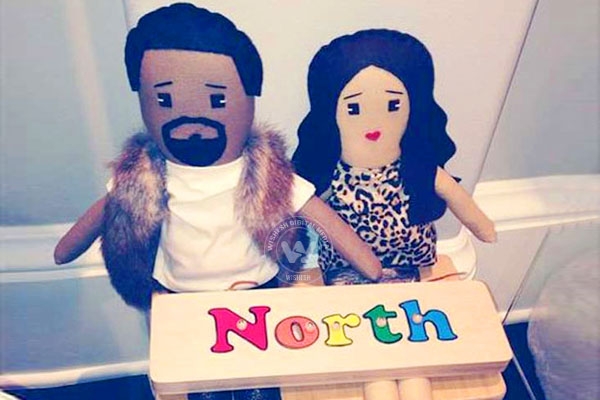 (Image source from: North West gets Kim and Kanye look-alike dolls})
North West, daughter of Reality TV star Kim Kardashian and rapper Kanye West, does not have much reason to miss her parents when they are not home. She has the doll-versions of her parents for company and to play with.
Khloe Kardashian, who is Kim's sister, recently posted pictures of the two dolls who look like Kim and Kanye on Instagram.
Khloe captioned the picture of the unique dolls as "West".  The art dolls modelled after Kim and Kanye were designed by Celine's Dolls, which is based in New York.
Kim's look-alike doll is wearing an animal print top and knee-length skirt with shoes. While Kanye's look-alike doll is in faux mink vest and faux leather pants.
The designer, while speaking of the dolls on Instagram, said: "Since @KhloeKardashian's post, people have asked a few things. Mini Kanye is wearing a faux mink vest and slightly shiny distressed faux leather pants. And yes, Mini Kim has hips."
"The dolls also show Kim in her signature style with an animal print top, knee-length skirt and shoes. Details on Mini Kim: red lips, leopard top and a personalized bling (crystals) #AllAboutTheDetails #OneofOne #CelinesDolls," posted the designer.
The same designer also created doll-version of North West. Now North has no reasons to complain when her parents are off to work as she has her own set of Kim and Kanye look-alike dolls to keep her entertained.

(AW: Pratima Tigga)