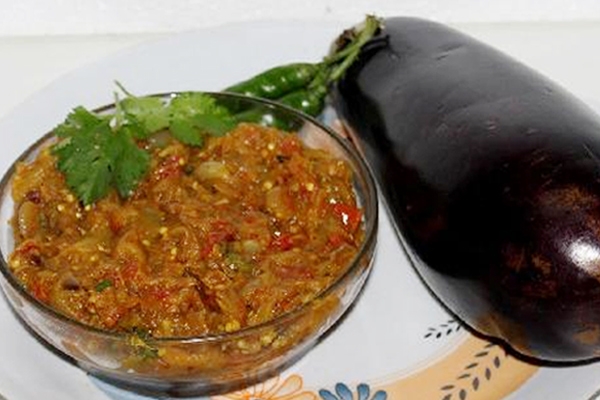 (Image source from: Baingan chutney recipe})
Baingan chutney recipe can be prepared easily with Baingan. This smoky mushy dish serves well as a side dish with chapatis as well as with dal-rice. You can serve it as a dip with pakoras or fritters.
Preparation time:  15 mins
Cook time:  10 mins
Total time:  25 mins
Serves: 2-3
Ingredients
(measuring cup used, 1 cup = 250 ml)
bharta baingan or a large aubergine: 1 medium
onion: 1 tbsp chopped
garlic cloves: 2; ginger ½ inch (made into a paste or ½ tsp ginger-garlic paste)
carom seeds/ajwain: ¼ tsp
kashmiri red chili powder: ¼ tsp or add as required
oil: 1 tbsp
salt
coriander leaves or parsley for garnish
Instructions to prepare Baingan chutney recipe
-rinse the aubergine/baingan and place it on the stove top.
-Roast the aubergine on fire.
-Roast until the peel chars completely and the flesh becomes mushy and soft. (check by piercing with knife).
-Place the fire roasted aubergine in a pan or bowl of water. Allow it to cool.
-Peel off the skin, finely chop the roasted aubergine.
-keep aside.
-Heat oil.
-Add the ajwain seeds and fry for few seconds. Add onions, ginger-garlic paste and sauté.
-Add the kashmiri red chili powder and stir.
-Add the chopped aubergine, salt.
-Saute for 5-6 mins on a low flame.
-Switch off the flame. Serving baingan chutney garnished with some chopped coriander leaves or fresh parsley.
-Sumana