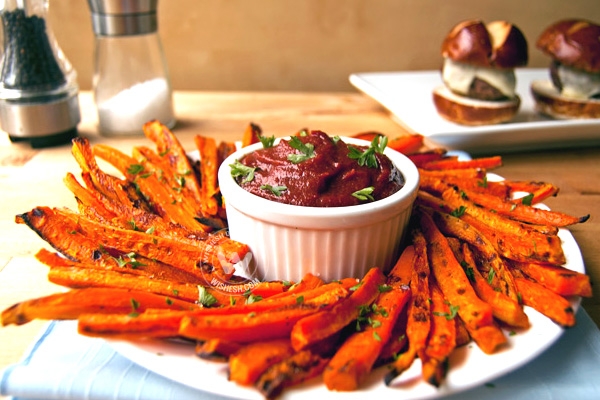 (Image source from: Baked Carrot Fries})
Are you counting on calories? Here is a great substitute. Go for baked carrot fries, which is better option compared to potato or sweet potato. Carrots fry well so baked carrots will be crisp on the outside and slightly moist on the inside. Carrots fall under low carbohydrates with acquired taste in itself.
Serves: 4
Ingredients required for baked carrot fries
Carrots: 2 lbs
olive oil: 1 tablespoon
salt and pepper to taste
How to prepare baked carrot fries
Preheat oven to 425 degrees.
Peel and slice carrots into french fry shaped pieces.
Maintain about ½" x ½" x 3".
Toss carrots with olive oil, pepper and salt.
Arrange carrots in a single layer on baking sheet.
Bake for 10 minutes.
Flip each carrot fry.
Continue to bake until fully cooked and slightly crispy.
Cook for an additional 10 minutes.
Serve immediately!
- Sumana