Radhe Movie Review, Rating, Story, Cast and Crew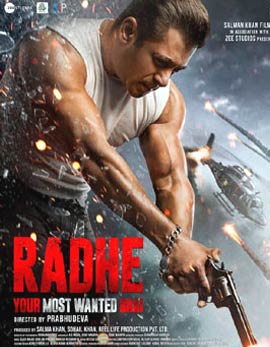 Rating:

Director:

Prabhu Deva

Cast:

Salman Khan, Disha Patani, Randeep Hooda, Jackie Shroff

Banner:

Zee Studios, Salman Khan Films

Producer:

Salman Khan, Sohail Khan, Atul Agnihotri, Nikhil Namit, Zee Studios

Music:

Sanchit Balhara, Ankit Balhara

Release Dt :

May, 13 2021
Story
Radhe is completely inspired by the Korean film 'The Outlaws'. Prabhudeva has been asked to direct the remake and Salman Khan plays the title role Radhe as a cop who takes against the drug mafia in Mumbai. He decides to close all channels of drugs in the city. He comes to know about Rana (Randeep Hooda) who is the kingpin of drugs for Mumbai. Apart from drugs, he is a serial killer and is ruthless to the core. Radhe is all about how the honest cop takes on the drug kingpin against all the odds. Watch Radhe to know about the story of Radhe and Rana.
Analysis
Radhe is a simple formula based action story that has nothing new to say about the plot. It is all about a cop who takes and dominates the mafia system. The first half of Radhe looks dull and uninteresting. The songs make no impact and the action episodes are the major strengths of the film. The interval portions of Radhe are decent and the first half of the film is packed with action but the other parts will leave the audience in disappointment.
The second half of Radhe is packed with action episodes in frequent intervals but the film turns too predictable and pale. Two songs in the second half are decent and the climax is tedious. Salman Khan and Randeep Hooda shine with their performances while the romantic thread looks forced and Disha Patani's role is restricted to songs. The second half of Radhe is a huge disappointment as it has nothing interesting on board.
Performance
Salman Khan does justice for his role and full marks to the actor. The top actor shines as an honest cop as Radhe and he did well in the action episodes. Disha Patani looks sexy and hot enough. Her role is restricted to songs and the romantic episode is not impressive. Randeep Hooda gets one more top-class role and he delivers his best. Jackie Shroff is wasted completely and his role looks irritating. The other actors are restricted and their roles will not be remembered.
Radhe is inspired from a Korean film 'The Outlaws'. The screenplay and the dialogues are the biggest disappointments of the film. The script is pale and the film looks flat throughout. The music and the background score match the mood of the film and the cinematography work is good enough. The production values make the film look grand. Prabhudeva fails badly in executing Radhe and the film ends up as a huge disappointment among Salman Khan's films.
Final Word
Salman Khan and Randeep Hooda shine in their roles but the rest of Radhe is a wasted attempt and can be given a skip.
Stills from this movie
Videos & Trailers