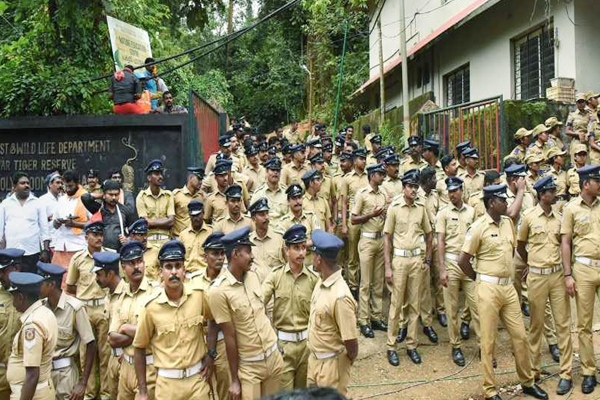 (Image source from: www.newindianexpress.com)
An elaborate plan has been drawn up by Kerala Police to ensure the safety of women devotees coming for Sabarimala darshan during the approaching Mandala-Makaravilakku season beginning from November 16.
More than 24,000 police personnel, including commandos and women constables, will be part of the deployment that will be done in four phases. Besides, the Kerala government has as well requested police personnel from neighboring states and Central forces.
The Kerala Police has been told by the Pinarayi Vijayan government in no uncertain terms that women devotees of all ages should be able to do their Sabarimala darshan this time. The security will be handled by two ADGPs (Additional Director General of Police), six IGs (Inspector-General of police) and eight SPs (Superintendent of Police).
The police will be deployed in four phases, with each phase stretching up to 15 days and having at least 5,000 personnel present from Nilakkal to Sannidhanam (sanctum sanctorum).
By the Makaravilakku season, the number of police personnel will go up to 7,000. Last year, there was 3,000 police personnel deployed in the beginning and 6,000 for Makaravilakku.
Security operations will be coordinated by South Zone ADGP Anil Kanth and Thiruvananthapuram Range IG Manoj Abraham. ADGP (Police Headquarters) S. Anandakrishnan will lead the police team.
During every phase, an IG-rank officer will be leading the security deployment at Pamba and Sannidhanam. While IG P. Vijayan will be in-charge of Sannidhanam, Thrissur Range IG M.R. Ajit Kumar will be looking after the forces deployed from Nilakkal to Pamba. Originally, these roles were handled by SPs.
There will be two SPs each under the IGs. There will be a permanent team at Marakkootam under an SP.
IGs Dinendra Kashyap, S. Sreejith and E.J. Jayaraj will also be part of the security team. During each phase, there will be 32 deputies SPs, 42 SIs (Sub-Inspector) and 98 ASIs (Assistant Sub-Inspector) in the police team.
In the first phase, 165 women police personnel will be deployed. At first, they will be stationed at Nilakkal, but if needed they will be moved to Sannidhanam too. There will be a reserve team of women police personnel at the Maniyar camp.
The growth in the number of personnel will help police fortify its presence at Sannidhanam, Nilakkal, Pamba, Erumeli, and Vadasserikkara. Besides local police, India Reserve Battalion commandos (90 personnel), Kerala Police commandos (60), NDRF (National Disaster Response Force) personnel (80) and CRPF (Central Reserve Police Force) Rapid Action Force personnel (220) will be present at Nilakkal and Sannidhanam.
-Sowmya Sangam