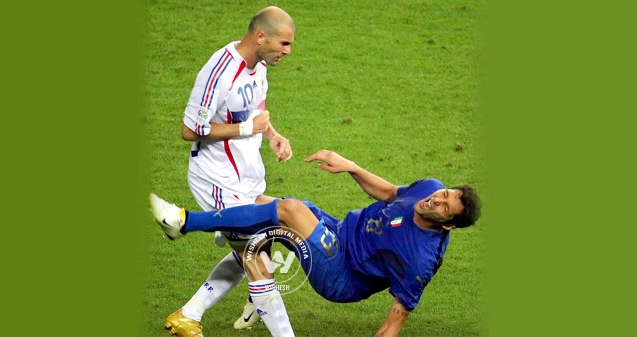 (Image source from: Zidane's infamous headbutt sculpted in bronze})
It was a headbutt to remember, a headbutt that booted French footballer Zidane out of the World Cup 2006 in Berlin at the decisive 110th minute of the final game, a headbutt that shot Italy to claim that years' trophy.
Seven years after the infamous head butt floored Italian player Marco Materazzi  and kicked the hornet's nest for Zidane, a French Algerian born artist Adel Abdessemed has decided to capture that historic headbutt in bronze. The sculpture has been put on display on the Corniche in Doha after it was bought by the Qatar Museums Authority.
"Workers were on Friday making the final touches after fixing the five-metre (16.4-feet) monument, sculpted by Algerian-born French artist Adel Abdessemed, on the Doha corniche," reports NY Daily News.
"It was bought by the Qatar Museums Authority, as the Gulf state prepares to build a massive infrastructure to host the 2022 World Cup. The "Coup de Tete" sculpture was put on display earlier outside the Pompidou Centre in Paris. It was also reportedly displayed between July and September in Italy's coastal town of Pietrasanta," the news daily further stated.
AW: Suchorita Dutta Choudhury