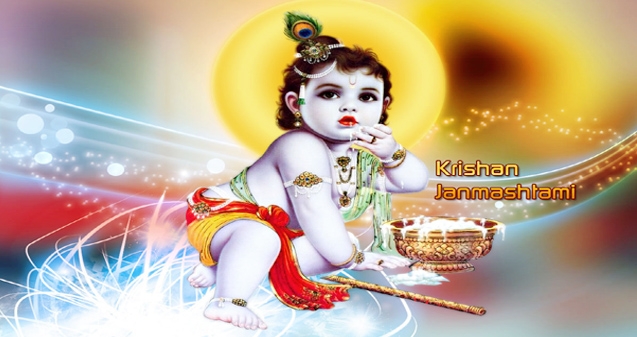 Janmashtami or Gokulashtami marks the birth of Shri Krishna the 8th son of Devaki and Vasudeva. Based on scriptural details and astrological calculations the date of Krishna's birth, known as Janmashtami, is 19 July 3228 BCE. Janmashtami is popularly known as Dahi Handi which is celebrated with enormous zeal and enthusiasm all over the world.
We have known Shri Krishna as a great warrior, a supreme emperor, an ideal son and a symbol of Divine Love. Today, let us experience some beautiful qualities; let us learn about his hidden virtues which played an important role in creating this Divine personality.
Respect is the root as well as the route to success. It was this respect coupled with deep gratitude which built the ladder to success in Shri Krishna's life. Shri Krishna was the Lord to 32,000 wives and enjoyed all the luxuries of being the King. Yet, his power and position did not hamper the respect he had for his mother. Deep roots of humility had anchored his heart. Every morning, the first thing Shri Krishna did was bowing in deep reverence to his mother and touching her feet to seek her blessings. He knew that a mother's blessing is instrumental in spreading the fragrance of positivity in one life. This positivity leads to success in each and every endeavour.
Once, when Shri Krishna mounted on his elephant, he saw an old man carrying bricks on his head and moving towards his house. Shri Krishna took pity on the aged man and dismounted from the elephant. He curiously asked the man the reason for lifting such heavy bricks. The old man replied that he was trying to construct his house. Hearing this, Shri Krishna's heart filled with compassion and he decided to help the old man by carrying the bricks himself. This selfless and empathetic gesture of Shri Krishna left the old man in shock and deep gratitude. It was unbelievable to digest the fact that the King himself had offered to help him. When the entire city got to hear this news, it left everyone it awe and wonder. Such was the nature of Shri Krishna. His heart was full of love and care for one and all. His act was so pure and selfless that he did not bother about what people would talk about him or think of him. Humility, love and compassion were his innate virtues.
Shri Krishna was born in the era of Parmatma Nemnath. He was highly inspired by Parmatma Nemnath and the way of life adopted by His disciples. Shri Krishna had not accepted the vows of Diksha (Renunciation) as he was burdened with the responsibilities of his kingdom. He showed great respect for all the saints and monks. Shri Krishna encouraged every individual to accept the vows of Diksha and assured them that their families would be looked well by him. Thus, He played a major role in inspiring people and was the key to help thousands of people walk on the path of renunciation. As a result of his great deeds, he bonded the auspicious Tirthankar Naam Karma by virtue of which He is destined to become a revered Tirthankar in the near future and attain emancipation.
Once Shri Krishna was on an administrative tour and while passing an area of lower caste people, a man called out disrespectfully to Shri Krishna and insulted him. The man yelled out asking Shri Krishna to step down from the chariot and worship him. He claimed to be the king. When Shri Krishna looked him in the eye, he understood the man's calibre. Shri Krishna remained calm and bowed his head in front of the layman instead of getting angry. The man further challenged Shri Krishna to fight with him to prove that he was the king. Shri Krishna did not pay heed to his challenge and decided not to fight him. His people were very furious at Shri Krishna's decision of not fighting that ordinary man. Shri Krishna explained to them and calmed them down by saying that there is no point to fight with such an ignorant person.
"An enlightened one is the one who does not use his energies in ordinary trifles."
This made his followers realize that Shri Krishna won even without fighting, while the villager had lost even after winning.
Shri Krishna's life serves as an inspiration for each and every one of us. Words are not enough to sing praises of his virtues….Today is a day to not only to remember and celebrate his birth, but to imbibe his virtues in our life!
source : speakingtree