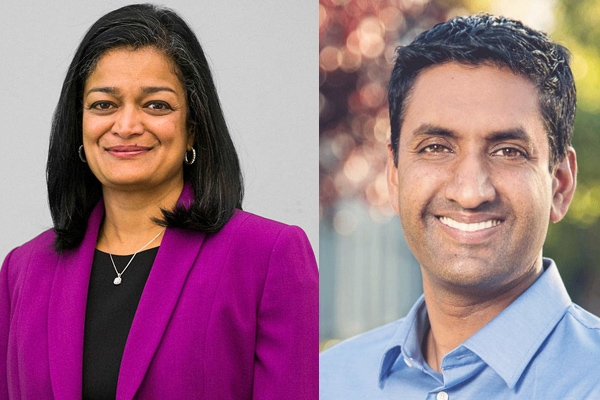 It's been almost a month since four Indian-Americans was re-elected to the United States House of Representatives and now two Indian-Americans among them – Pramila Jayapal and Ro Khanna – have been elected to leadership positions of a powerful Congressional Caucus.
The first Indian-American Congresswoman Jayapal has been elected as co-chair of the Congressional Progressive Caucus (CPC), along with Congressman Mark Pocan.
California Representative Ro Khanna elected to replace Jayapal as first vice chair of the CPC for the 116th Congress beginning January 2019.
The elections for the major caucus within the House Democratic Caucus - which will have in excess of 90 members - was held on Thursday.
Both Jayapal and Khanna, who represents Washington and Silicon Valley respectively, were re-elected to the U.S. House for their second consecutive term during the mid-term elections held on November 6.
Related content: Tulsi Gabbard to Meet Indian-Americans on Potential Presidential Run
In the outgoing Congress, Jayapal was the First Vice Chair of the CPC.
Congressional Progressive Caucus
Established in 1991, the CPC aims to reflect "the diversity and strength" of the American people and pursues to "give voice to" the wants and aspirations of all Americans and to build a more fair and humane society.
"I am committed to ensuring our caucus is as bold and strategic as possible, and that our members have the resources and the ability to stand up for the chance for every American to have real opportunity, to take on the largest corporations and special interests who have corrupted our democracy and to bring real power to workers, women, immigrants and all of those most vulnerable and marginalized," Jayapal said after her election.
"The progressive movement is the strongest it has ever been and I, along with Rep. Pocan and the entire CPC Leadership, look forward to leveraging that power to deliver policies that benefit a diverse, inclusive and just America," she said.
The American people sent a Blue Wave powered by progressives to Capitol Hill and we fully intend to respect the electorate's decision by presenting a bold, forward-looking agenda, said Pocan.
"I am excited to welcome Rep. Jayapal as a Co-Chair of the Caucus and with progressives in Democratic leadership, we will continue to advance our ideas and shape policies that make a lasting and positive difference on the lives of the American people," he said.
The four central principles of the CPC are fighting for economic justice and security for all; promoting global peace and security, protecting and preserving civil rights and civil liberties; and advancing environmental protection and energy independence.
-Sowmya Sangam