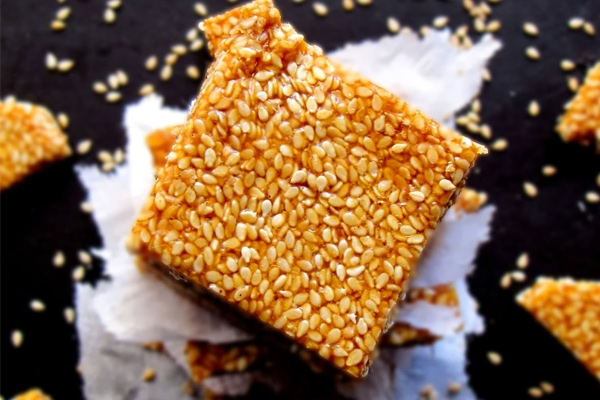 (Image source from: Spread sweetness with this Sesame Chikki Recipe)
When an occasion calls for sweet sindulgence like "Ganesh Chaturthi", we suggest you storm them up in your kitchen rather than feeding on the store-bought ones. That way, you won't just save yourself some extra bucks, but also get the double joy of trying something new at home and relishing on your homemade goodies. What a delightful thought, isn't it? So what are you waiting for? With less than two days to go for Ganapati to arrive, it's time to rock the kitchen. If you are pressed for time, just like me, then you will simply love making and treating these three ingredient goodies called "chikki" (Sesame and Jaggery Bars). Get started:
Chikki Ingredients:
Sesame seeds(Til)- 1 cup
Jaggery- 3/4 cup (grated)
Ghee(clarified butter)- 2tsp
Ghee/oil for greasing
Chikki Recipe:
Dry roast the til in a pan until slightly golden. Keep aside.
Grease rolling pin as well as a baking tray with some oil and keep aside.
In a pan, heat ghee and add grated jaggery into it. Allow it to melt, stirring slowly but steadily over low flame, even after it melts completely. Wait for the syrup to bubble.
Add the roasted sesame seeds into it, mix well and remove from heat.
At once, spread the entire mixture over the greased tray. Toll it into a thin, even layer using the greased rolling pin.
Using a knife, cut it down into diamond shapes when it is slightly/moderately hot.
Allow to cool completely and enjoy.
AW: Suchorita Choudhury