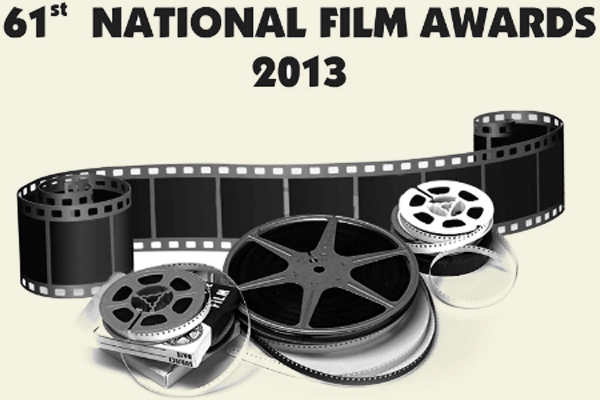 (Image source from: The scene stealers of 61st National Awards})
The 61st National Awards for the year 2013-2014 have been announced. And some of the big films to claim the coveted honor are 'Bhaag Milkha Bhaag', 'Shahid', and 'Ship Of Theseus'.
Felicitating the best in mainstream and regional movies in Indian language, the winners (feature and non-feature) for this years national fame were hand-picked by an 11 member jury, headed by noted directed Saeed Akhtar Mirza.
While films like 'Ship of Theseus' (English/Hindi), 'Fandry' (Marathi), 'Bhaag Milkha Bhaag' (Hindi), 'Kaphal' (Hindi), and 'Shahid' (Hindi) bagged Swarna Kamal (Golden Lotus Award), films like 'Thalaimuraigal' (Tamil), 'Tuhya Dharma Koncha' (Marathi), 'Madras Cafe' (Hindi), and "Jaatishwar' (Bengali) received the Rajat Kamal (Silver Lotus Award).
All the recipients of Golden Lotus will receive a certificate and a cash prize of up to INR250000, winners of Silver Lotus will get a certificate and cash price worth up to INR200000.
The one movie to claim the maximum number of awards this year was the Bengali musical drama 'Jaatishwar'. Kiran Rao's 'Ship of Theseus' was named the best feature film while 'Rangbhoomi' cinched the award in non-feature category.
Here is a list of the winners in some of the major categories:
Best Film (Hindi): Jolly LLB
Best Actress: Geetanjali Thapa (Liar's Dice, Hindi)
Best Actor: Raj Kumar (Shahid, Hindi) & Suraj Venjaramoodu (Terariyathavar, Malyalam)
Supporting Actor (Female): Aida Elkashef, Ship of Theseus and Amruta Subash, Astu
Best Direction: Hansal Mehta for Shahid (Hindi)
Special Mention Gauri Gadgil and Sanjana Rai for 'Yellow' (Marathi)
Direction (Non Feature): Chidiya Udh
Special Effects: Jal
Short Fiction (Non Feature): Mandrake! Mandrake! (Hindi)
Non Feature Film on Social Issues: Gulabi Gang (Hindi, Bundelkhandi)
Environmental Film including Agriculture: Foresting Life (Hindi,Assamese)
Non Feature Film: Rangbhoomi (Hindi)
Best Book on Cinema: Cinema Ga Cinema (Telgu) by Nandagopal
Sound Design: Bishwadeep Chatterjee, Madras Cafe
Choreography: Ganesh Aacharya, Havan Karenge (Bhaag Milkha Bhaag)
Special Jury Award: Yellow (Marathi) & Miss Lovely (Hindi)
Best Children's Film: Kaphal (Hindi)
Best Film on Environment Conservation/Preservation: Perariyathavar (Malyalam)
Best Film on Social Issues: Tuhya Dharma Koncha (Marathi)
Nargis Dutt Award for Best Feature Film on National Integration: Thalaimuraigal (Tamil)
Best Popular Film providing wholesome Entertainment: Bhaag Milkha Bhaag (Hindi)
Indira Gandhi Award for Best Debut Film of a Director: Fandry (Marathi)
Best Feature Film: Ship of Theseus
Playback Singer: Bela Shinde Khura Khura
The National Awards ceremony will be held on May 3, 2014. The President of India, Sri Pranab Mukherjee will hand out the all the awards along with the prestigious Dada Saheb Phalke Award that has gone to writer-lyricist Gulzar for his gargantuan contribution to Indian cinema.
AW: Suchorita Choudhury