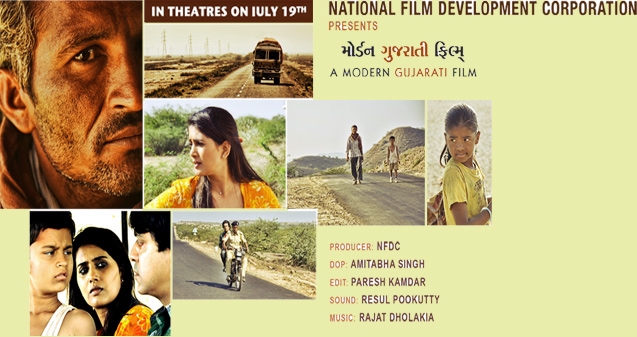 (Image source from: The Good Road enters Oscars! })
The film The Good Road which has been directed by Gyan Correa, is a lost-and- found story about a small boy and is India's official entry at the  Academy Awards 2014 in the Best Foreign Film category. If one has to move forward accompanying the trailer then it would undoubtedly give an outlook of  docu-drama than a feature film. The story is surrounded by a boy Adi (Keval Katrodia)  who gets lost on a highway and his parents start searching their missing child. The movie known to be established in the backdrop of the Rann of Kutch has been shot in real locations and in some scenes you realise that Correa has used non-actors and it seems as if he has made the film with real-life characters.
Even though, The Good Road left behind Ritesh Batra's much acclaimed The Lunchbox in the Academy Awards race, Correa's directorial debut isn't that bad and looks promising. In spite of the fact that the story is mainly about a little boy's journey, there is another tale merged in the plot which showcases the real India. Furthermore, it was shown that a truck driver and his cleaner would help Adi and afterward there is a little girl (Poonam Kesar Singh) who lands up at a roadside brothel.
There shouldn't be any doubt in the fact that the story has much more to offer than what we experience through eyes. Sonali Kulkarni and Ajay Gehi played the role of Adi's parents. The Good Road which has been sent to the Oscars is undoubtedly an instance of astonishment yet due to the reason the film has experienced victory with the prestigious National Award for the Best Feature Film – Gujarati, there would be definite justification for it.  It's unpredictable to say how this movie will go in the Oscar race. At the same time there is strong reason why it shouldn't be left without reasonable confidence. Another prominent fact that the film has a good story as well as shot in a raw location.  
Enjoy the THE GOOD ROAD (Gujarati) – Promo  
Have a great time!!!
(AW:SB)