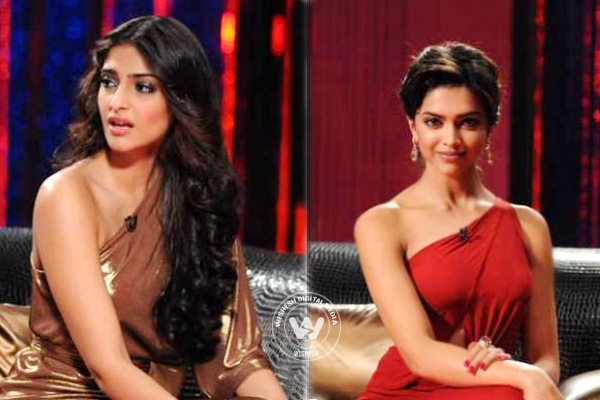 (Image source from: All is not well between Deepika Padukone and Sonam Kapoor?})
In Bollywood, where equations change at the drop of a hat, it's not surprising to see one time friends fast turning into frenemies.
We are discussing Sonam Kapoor and Deepika Padukone here and their relationship that has changed its color faster than a chameleon would change its hue.
If you remember, the last time the duo was seen together was in Karan Johar's couch (no pun-intended!) The two had a gala time, taking potshots at Ranbir Kapoor, something that the young Kapoor lad took on the chin and grinned it away.
This season, the two were back in the show, albeit with different partners. While Deepika Padukone made an appearance with Priyanka Chopra, Sonam made an appearance with dad Anil in tow. And while Sonam spared Junior Kapoor this time, she aimed all her canon balls at ex-couch mate Deepika.
She tore into Deepika's sense of style. Not just that, when Karan asked her to name a good-girl-gone-bad, she named Deepika. The clincher was of course when Karan asked her what is the one thing Deepika Padukone has that she doesn't and Sonam replied, "An over-enthusiastic PR team."
For your information, until a few days back, both Sonam and Deepika were managed by the same PR agency, until Sonam move to a new agency.
At a time when the industry is become increasingly uneventful and boring, thanks to the  image consultants, publicists and managers who micromanage the stars to the extent of stripping away their original self, Sonam's candour comes as fresh whiff.
That said, her bite and claw hasn't gone down too well with Deepika Padukone tearing down Sonam on Twitter, Facebook and Instagram. Seems there is a little bitchfest going on in the industry. Interesting, eh?
AW: Suchorita Choudhruy